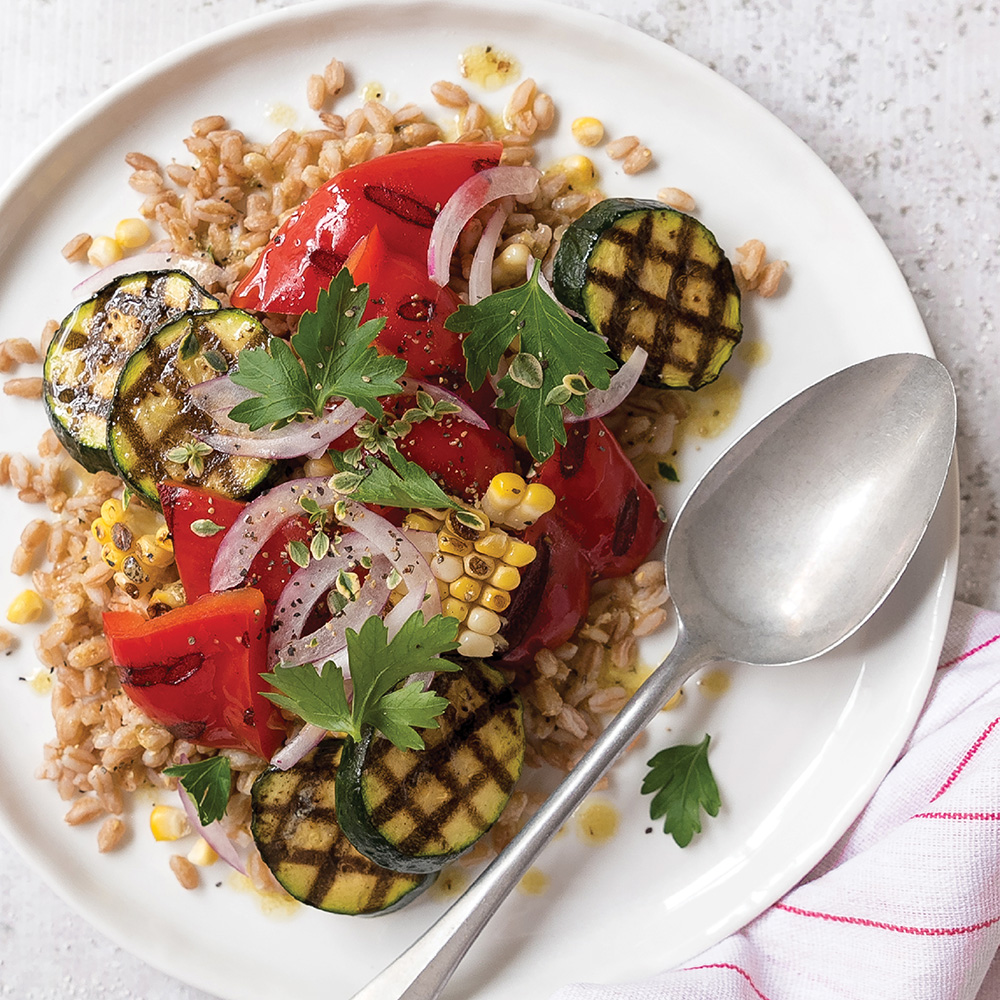 Grilled Vegetables with Farro
---
Grain bowls make a quick and healthy dinner that can be customized anyway you love! This recipe utilizes a base of farro, an ancient grain bursting with protein, antioxidants, and a nutty flavor. The rich flavor of farro is brightened by homemade dressing of lemon, garlic, and fresh tarragon before it's topped with fresh veggies straight from the grill.
Ingredients
2 Ears of Corn, shucked
1 Medium Zucchini, sliced
2 Red Peppers, quartered
1/2 Small Red Onion, finely julienned
1 cup Bob's Red Mill Farro
4 cups Cold Water
Dressing Ingredients
4 tbsp Olive Oil
2 tbsp Lemon Juice
2 tbsp Fresh Tarragon, finely chopped
2 Large Garlic Cloves, minced
1/4 tsp Sea Salt
1/4 tsp Ground Black Pepper
Directions
In a medium stockpot, add farro, water and a pinch of salt. Bring to a gentle simmer and cook for 15-20 minutes or until grain is tender. Drain and set aside.
Preheat grill to medium-high heat. Prepare vegetables and toss with three tablespoons olive oil; season with salt and pepper. Meanwhile, whisk together dressing ingredients until emulsified. Set aside.
On a preheated grill, place vegetables and grill three minutes per side or until desired doneness. Cut kernels off cobs after grilling.
Toss farro with dressing, adjust seasonings and place on a serving platter. Arrange grilled vegetables and red onion over the top and serve.
Recipe and photo provided by INFRA.