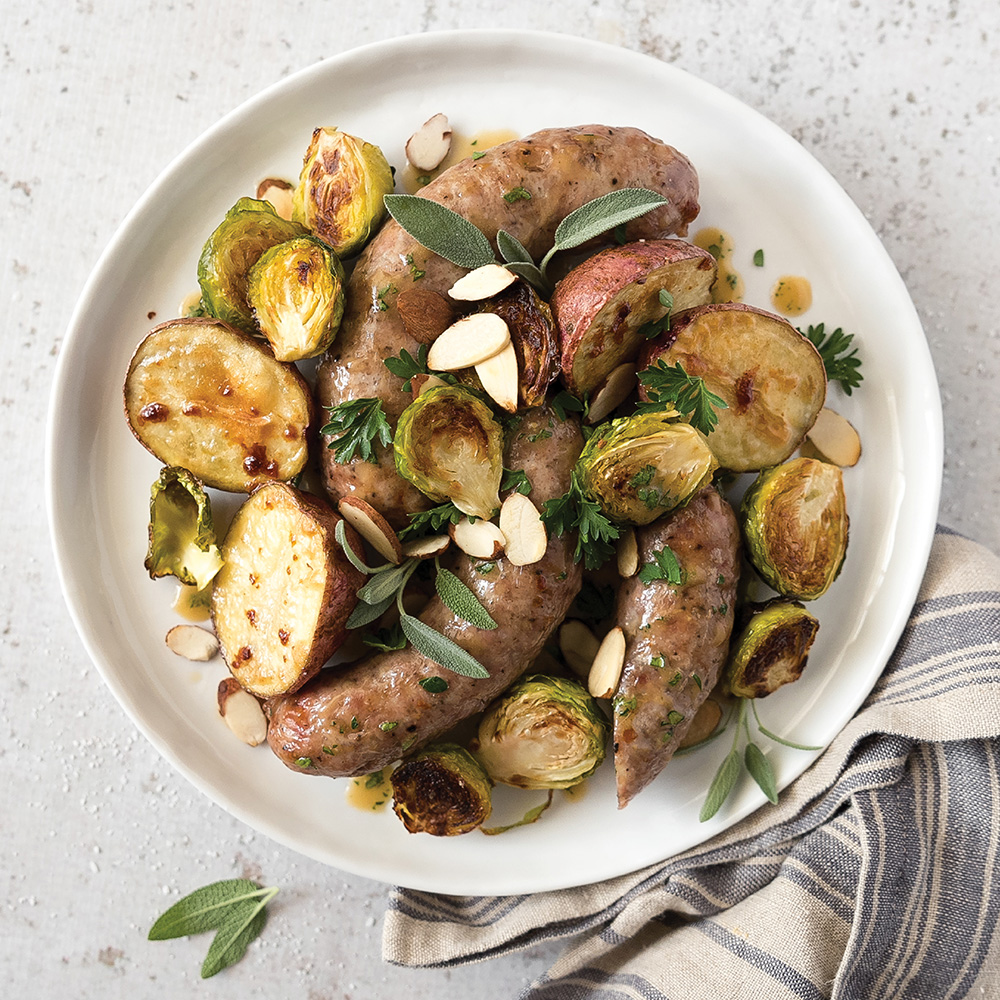 Sheet Pan Sausage, Brussels Sprouts & Potatoes
---
This sheet pan recipe checks all the boxes: it's seasonal, features fresh flavors, and can be made ahead to enjoy later! Add it to your collection of recipes for weeknights and let yourself be impressed with its ease and deliciousness. This recipe can be adapted to utilize vegetarian sausage if that's more your style. Whatever your choice, it'll go in the oven on the sheet pan to roast along with the Brussels sprouts and potatoes until they achieve caramelized perfection. Finish them off with a drizzle of the zippy mustard dressing, complete with fresh herbs and smoked almonds. Save the sauce to dress up your meals the rest of the week and boom! This recipe just revolutionized the week.
Ingredients
1 lb Whole Sausages
1 lb Small Red Potatoes, halved
1 lb Brussels Sprouts, halved
6 tbsp Olive Oil
2 tbsp Red Wine Vinegar
1 tbsp Dijon Mustard
1 tbsp Honey
1 tbsp Fresh Sage, minced
1 tbsp Fresh Parsley, minced
Pinch of Salt
Pinch of Black Pepper
1/3 cup Smoked Almonds, sliced
Directions
Preheat oven to 350 F. Place sausage, potatoes and Brussels sprouts on a sheet pan and drizzle on 3 tablespoons olive oil, toss to coat. Sprinkle lightly with sale and pepper.
Place in oven and bake for 30-35 minutes or until vegetables are tender and sausages are cooked to 165 F, turning over halfway through cooking.
Meanwhile, to create sauce, whisk together remaining ingredients, except almonds, until emulsified.
Remove sausages and vegetables from the oven and transfer to a serving dish.
Drizzle on sauce and sprinkle with almonds.
Recipe and photo provided by INFRA.