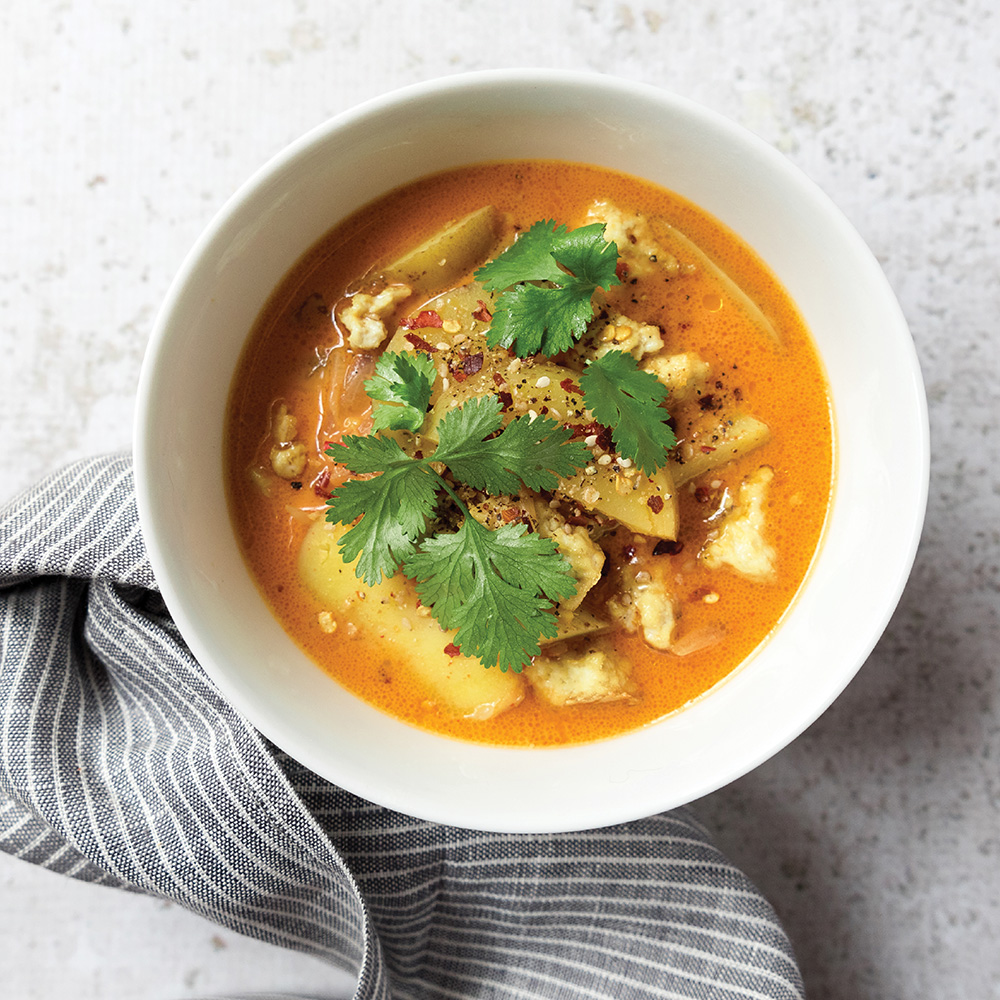 Thai Coconut Soup
---
This Thai Coconut Soup deserves a spot in your meal plan. This recipe relies on pantry staples, so you can make a batch whenever the mood strikes. Garlic, ginger, and chili flakes bring an exciting depth of flavor that enhances the jarred curry paste. You can always turn up the heat or dial it back by adjusting the curry paste and chili flakes to suit your taste. Don't forget, the coconut milk adds a nice creaminess that balances the heat.
Ingredients
1 lb Firm Tofu
5 tbsp Sunflower Oil
15 oz Coconut Milk
1/4 cup Cane Sugar
3 tbsp Thai Red Curry Paste
3 tbsp Tamari
3 tblsp Lime Juice
1 small Onion, julienned
2 tbsp Minced Garlic
2 tbsp Minced Ginger
1/2 tsp Crushed Red Chili Flakes
2 cups Vegetable Broth
1/2 lb Yellow Potatoes, halved & sliced
Directions
Preheat oven to 350 F.
Break tofu into bite size pieces and toss with 2 tbsp sunflower oil. Place on a baking sheet and back for 20-30 minutes, turning occasionally until golden brown.
Meanwhile, whisk together coconut milk, sugar, red curry paste, tamari and lime juice. Set aside.
Heat remaining oil in a 2-quart stockpot over medium-low heat. Sauté onion until tender, approximately 3-5 minutes. Add garlic, ginger and chili flakes; cook until fragrant.
Add broth and potatoes. Bring to a gentle simmer and cover. Simmer until potatoes are just tender, approximately 5-8 minutes.
Stir in coconut mixture and adjust seasoning to taste. Add tofu and serve.
Recipe and photo provided by INFRA.