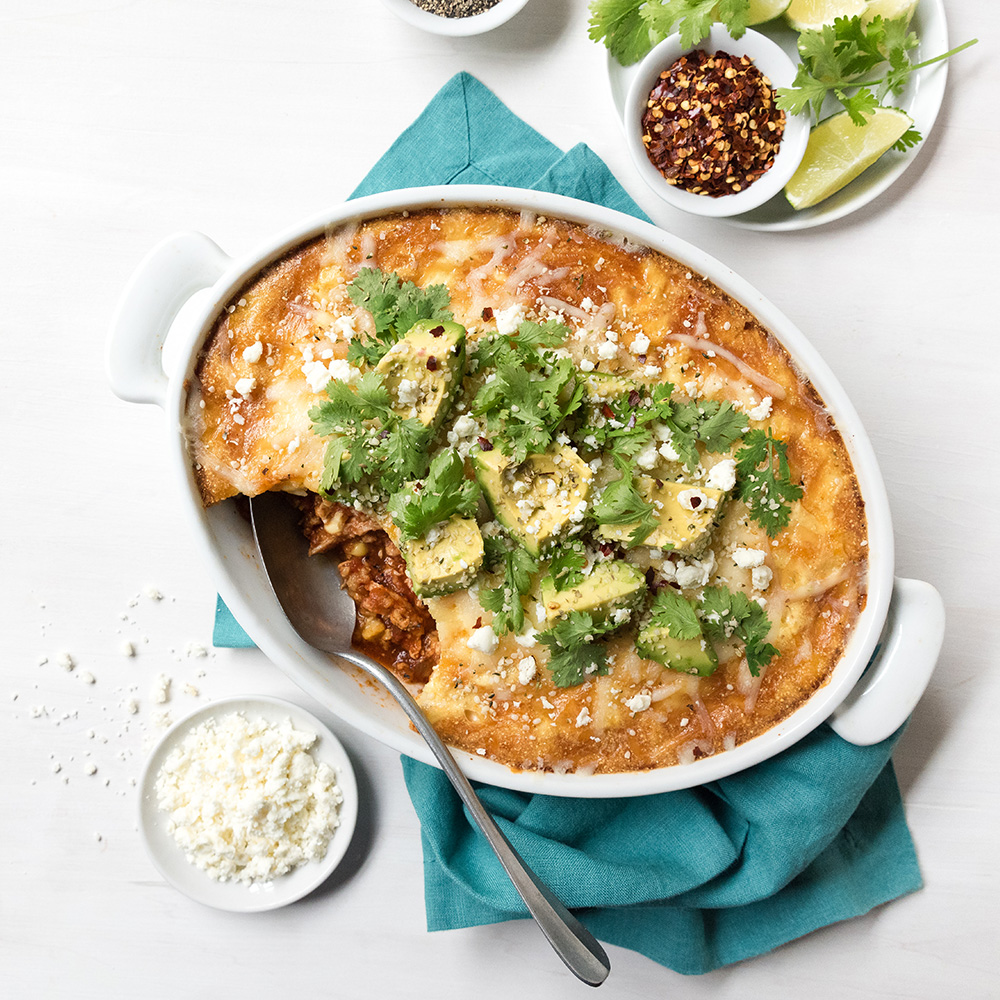 Turkey Tamale Pie
---
Ingredients
Turkey Filling
3 tablespoons olive oil
1 large yellow onion, chopped
2 tablespoons, garlic minced
28 ounces fire-roasted crushed tomatoes
2 teaspoons tomato paste
1 tablespoon chili powder
2 teaspoons ground cumin
2 teaspoons smoked paprika
1 teaspoon sea salt
1 teaspoon ground black pepper
1/2 teaspoon crushed red pepper
1/2 teaspoon dried oregano
2 pounds shredded cooked turkey
Corn Bread Topping
2 cups cornmeal
1 1/2 teaspoons sea salt
2 cups whole milk
3 large eggs, beaten
1 cup shredded cheddar cheese
2 cups shredded Monterey Jack cheese
1 cup frozen corn kernels, thawed
Directions
Preheat over to 350F.
Heat oil in a large saucepan over medium heat. Add onion and sauté until tender. Stir in garlic and cook for a minute then add crushed tomatoes, tomato paste and spices. Bring mixture to a gentle simmer and cook for 10-15 minutes. Remove from heat and fold in turkey.
Place mixture evenly in a 9 x 13 oven safe baking dish. Allow micture to cool slightly.
For the topping, whisk together cornmeal, salt, milk and corn kernels. Pour mixture over turkey.
Bake for 45 minutes or until center is set and top is golden brown.
Serve with avocado, cilantro, cotija cheese and salsa, if desired.
Recipe and photo provided by INFRA.